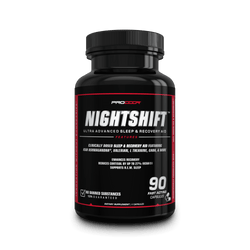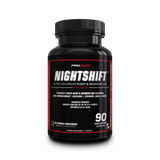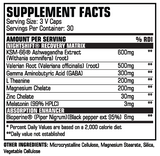 SLEEP/RECOVERY AID
NIGHTSHIFT®
ADVANCED SLEEP & RECOVERY/CORT REDUCING & T BOOSTING AID
Boosts T by 17% & Luteinizing Hormone by 36%
Reduces Cort. by up to 27%
Supports Recovery and Muscle Rebuilding

Vegan Friendly
THE STAPLE EVERYDAY SLEEP & RECOVERY AID
Since 2017, Nightshift® has been the ultimate recovery & performance aid choice for athletes and individuals world wide. Nightshift® acts as multi-pathway delivery agent for countless desirable effects such as an increase in T, decrease in cort., R.E.M. sleep and much more.
KSM-66® - THE FORCE BEHIND NIGHTSHIFT

™
PROCCOR partnered with Ixoreal in 2017 to create what would result in one of the most effective sleep & recovery aids in existence. Ixoreal's innovation surrounding KSM-66® has been proven, in human double blind clinical trials, to effectively increase T by a whopping 17% and Lut. hormone by a massive 36%(1). Additionally, KSM-66® in Nightshift® has been clinically proven to reduce cort. by 27%, providing an ideal environment for recovery and a host of other benefits that come with cort. reduction.
GABA
Gamma-Amino Butyric acid is an amino acid that aids in relaxation by calming the nervous system activity. It's a beneficial neurotransmitter and part of the "sleep" portion of Nightshift®.
VALERIAN ROOT
Valeriana officinalis, or more commonly known as Valerian, is a perennial flowering plant extract which reduces the time it takes to fall asleep by inducing relaxation and calming nervousness.
L THEANINE
L Theanine needs no introduction, it's an extremely popular relaxation and anxiety aid. We've included it in Nightshift as part of our "sleep" portion of the product, to ensure a better night's sleep.
ALBION

®

TRAACS

®

ZINC & MAGNESIUM
Zinc and Magnesium are some of the most known minerals for boosting testosterone (Zinc) and aiding relaxation (Magnesium). The problem with regular Zinc and Magnesium? They just don't absorb properly. We've utilized the highest quality and most bioavailable form of these minerals - the chelated mineral forms from the prestigious Albion® mineral group.
BIOPERINE®
What good are all the quality ingredients in Nightshift® if they aren't capable of being properly absorbed? We've included Bioperine® to ensure proper ingredient absorption for maximum delivery & efficacy.
100% LABEL CLAIM GUARANTEE
Every PROCCOR® product is strictly tested before being released to the market. We quarantine raw materials upon arrival, HPLC/USP/3rd PARTY test for accuracy, impurities, and metals. Only after these steps are completed do we make the products available to you. All PROCCOR® Products are manufactured in a state-of-the-art cGMP, FDA Registered facility under pharmaceutical grade processing.
HAVE A QUESTION? Call Our Expert Team: 800.803.5204

DIRECTIONS: As a dietary supplement, take 3 V-Caps 30 minutes before bed time. Do not exceed the recommended dosage.
WARNING
THIS PRODUCT IS ONLY INTENDED TO BE CONSUMED BY HEALTHY ADULTS, 18 YEARS OF AGE OR OLDER. Discontinue 2 weeks prior to surgery. Immediately discontinue use and contact a medical doctor if you experience any adverse reaction to this product. Do not exceed recommendations for Suggested Use. Use only as directed. Do not use if safety seal is broken or missing. Store in a cool dry place. KEEP OUT OF REACH OF CHILDREN.

PROCCOR® and NIGHTSHIFT® are registered trademarks of PROCCOR Pharmaceuticals, Inc.