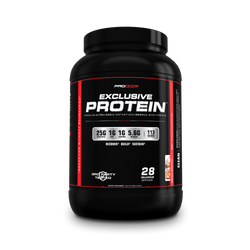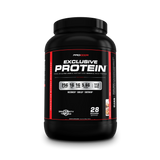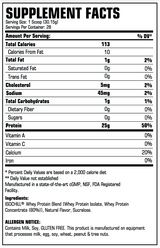 PRO BLEND
EXCLUSIVE PROTEIN™
PREMIUM NON DENATURED ISOCHILL® WHEY
25g Cold Temperature Processed Whey Protein Per Serving
Less than 1g Carbs & Fat
No Fillers, Thickeners, Dyes or Artificial Flavors
No Amino Spiking
Delicious Flavors
ISOCHILL® CTP WHEY
Non-denatured Isochill® Whey Isolate (primary). No ion-exchange or cheap proteins.
LOW CARBS & FAT
Less than 1g fat & carbs, with only 110 calories per serving.
MIXES EASILY
100% Instantized to mix easily. Mixes with just a spoon!
NO AMINO SPIKING
100% Intact whey protein Isolate - WE DO NOT AMINO SPIKE ANY OF OUR PROTEINS. Guaranteed." 
ISOCHILL® - PROTEIN MADE RIGHT.
Exclusive Protein™ features IsoChill® Whey Protein Isolate (PRIMARY SOURCE) & WPC 80. Unlike many proteins on the market today that are processed using high heat temperatures that denature the proteins - IsoChill® whey proteins are filtrated using a cold temperature process that allows the proteins to retain their beneficial immunoglobulin factors and other immune enhancing factors such as Lactoferrin.
EXTREMELY CLEAN - Natural Flavors, No Fillers, No Colors.
In our quest to create the best protein, we needed it to be different than the competition. We've opted to use only natural flavors, high-end ingredients such as Organic Cocoa and ZERO fillers, additives or ingredients that should never be in your protein.
ABSOLUTELY DELICIOUS FLAVORS
Our flavor specialists have outdone themselves to create some of the most mind-blowing flavors on the market today so you can enjoy every sip, every time.
100% LABEL CLAIM GUARANTEE
Every PROCCOR® product is strictly tested before being released to the market. We quarantine raw materials upon arrival, HPLC/USP/3rd PARTY test for accuracy, impurities, and metals. Only after these steps are completed do we make the products available to you. We also utilize what is called an "intentional overage" where we intentionally add an overage of 1-5% (depending on the ingredient) to ensure that in cases of settling our products will still 100% meet label claims.
All PROCCOR® Products are manufactured in a state-of-the-art cGMP, NSF, FDA Registered facility under pharmaceutical grade processing.
HAVE A QUESTION? Call Our Expert Team: 800.803.5204[/vc_column_text][/vc_column][vc_column column_padding="no-extra-padding" column_padding_position="all" background_color_opacity="1" background_hover_color_opacity="1" column_shadow="none" width="1/3" tablet_text_alignment="default" phone_text_alignment="default" column_border_width="none" column_border_style="solid"][vc_column_text css_animation="right-to-left"]
DIRECTIONS
Mix 1 Serving (1 Scoop) in 5-6 fl. oz. of cold water. Exclusive Protein™ can be taken at any time during the day to supplement your daily protein requirements
WARNING
THIS PRODUCT IS ONLY INTENDED TO BE CONSUMED BY HEALTHY ADULTS, 18 YEARS OF AGE OR OLDER. Discontinue 2 weeks prior to surgery. Immediately discontinue use and contact a medical doctor if you experience any adverse reaction to this product. Do not exceed recommendations for Suggested Use. Use only as directed. Do not use if safety seal is broken or missing. Store in a cool dry place. KEEP OUT OF REACH OF CHILDREN.
[/vc_column_text][/vc_column][/vc_row]