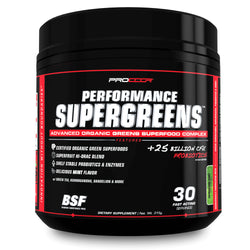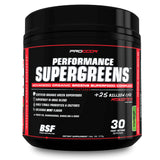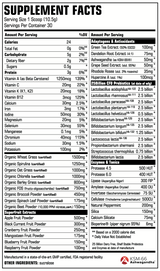 ORGANIC GREENS
PERFORMANCE SUPERGREENS™
ORGANIC SUPERGREEN & SUPERFRUIT FORMULA
Certified Organic SuperGreen Superfoods & Grasses
Superfruit Extract Blend
25 BILLION Shelf Stable, Dairy Free Probiotics from 12 Strains, & Enzymes per serving
Complete Adaptogen & Anti Oxidant Blend featuring KSM-66® Ashwagandha, Rhodiola Rosea, Green Tea Extract, Grapeseed Extract, Dandelion Root, Bioperine® & more
100% Transparent Formula with ZERO Artificial Flavors, Fillers, Dyes, Artificial Colors, or Banned Substances
THE BEST TASTING GREENS YOU'VE EVER TRIED!
100% LABEL CLAIM GUARANTEE
Every PROCCOR® product is strictly tested before being released to the market. We quarantine raw materials upon arrival, HPLC/USP/3rd PARTY test for accuracy, impurities, and metals. All PROCCOR® Products are manufactured in a state-of-the-art cGMP, NSF, FDA Registered facility under pharmaceutical grade processing.
HAVE A QUESTION? Call Our Expert Team: 800.803.5204
DIRECTIONS
Mix 1 serving (1 rounded scoop) of Performance Supergreens with 8 oz of cold water. Take 1-2 daily. Vary liquid to achieve your preferred taste. During your workout, it is recommended that you drink plenty of water or an intra-workout performance beverage such as Amino Prestige to stay hydrated and recover faster. 
NOTICE
THIS PRODUCT IS ONLY INTENDED TO BE CONSUMED BY HEALTHY ADULTS, 18 YEARS OF AGE OR OLDER. Discontinue 2 weeks prior to surgery. Immediately discontinue use and contact a medical doctor if you experience any adverse reaction to this product. Do not exceed recommendations for Suggested Use. Use only as directed. Do not use if safety seal is broken or missing. Store in a cool dry place. KEEP OUT OF REACH OF CHILDREN.
Customer Reviews
08/08/2019
TaylorNoelFlex
My new favorite greens powder
Talk about a LOADED greens powder! I'm a ketogenic bodybuilder so I'm no stranger to taking vitamins and supplements, this stuff is my new go-to. There's no competition when you factor is the label, price, taste, and performance. I've tried: Amazing Grass Green SuperFood, Alpha Lion SuperHuman Greens, Hardbody Generation Greens, Jacked Factory Green Surge, etc PROS: ***SERVING SIZE: Each scoop is 10.5, which is pretty darn big. For comparison Amazing Grass is 8g/scoop. ***FORMULA: Very well rounded formula. We get vitamins + greens+ adaptogens + probiotics + digestive enzymes and more. Bonus: 6mg of Bioperine is a nice touch (increases absorption and bio-availability). It also contains KSM-66 which is an excellent branded form of Ashwagandha. ***TASTE: "Refreshing Mint" flavor doesn't sound very good but trust me, it's amazing (and this is coming from a person who hates mint). It's light and sweet, I like it with water mixed in a shaker bottle. ***KETO FRIENDLY: Only 3g net carbs. CONS: ***SUCRALOSE: Yes it does contain sucralose but that really isn't a huge deal. There's no Acesulfame Potassium (Ace K), no artificial flavors, no sugar alcohols, no maltodextrin. ***PRICE: $60 is steep but it's well worth it in my opinion. Wait for a sale to lessen the burden on your wallet.
First greens supplement that I don't have to gag down!
I've tried a bunch of greens supplements, because im a bad health and fitness professional who doesn't like to eat veggies. I was timid opening the container because, while not as strong as others, there was that distinct "earthy" smell. But I mixed it up with water and ice in my small blender bottle and prepared for the worst. To my surprise, I actually enjoyed the mint flavoring and the dirt taste was almost non-existent. I, dare I say, enjoy drinking this, and while I can't speak to the effectiveness as I've only been drinking it for 1 week, I will definitely keep this in the stack!