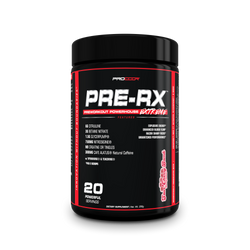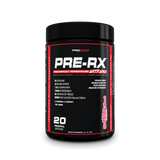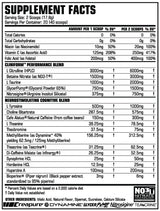 A TRUE CLINICALLY DOSED ALL-IN-ONE PRE WORKOUT POWERHOUSE
Pre Rx is a true clinically dosed performance pre workout. We didn't just clinically dose 1 or 2 ingredients - every single ingredient is in its efficacious dose aimed to deliver an unprecedented level of performance.
6G CITRULLINE
A full 6g dose of Pure, Fermented Citrulline in every scoop to ensure you reap its performance benefits - no Citrulline Malate here. Pure Citrulline has been shown to dramatically boost endurance and increase bloodflow over Citrulline Malate. 
NO CREATINE OR TINGLES
We know everyone's needs are different, so we've made Pre Rx Extreme to be a high stimulant performance pre workout, without the Beta Alanine tingles or Creatine.
3G NO3-T® BETAINE NITRATE
Pre Rx contains a whopping 3G of licensed & Patented Betaine Nitrate. Betaine Nitrate supports performance, vasodilation & much more.
1.5G GLYCERPUMP®
GlycerPump's® ability to hyper-hydrate and increase muscle volumization is second to none with its high yield Glycerol content (65%). This is a non-clump, stabilized version of Glycerol and it was absolutely a must have in Pre Rx.
575MG Choline Bitartrate
Choline is absolutely essential as, even in the ideal conditions, as the body doesn't produce enough. Its benefits are far and many including cognitive, cardiovascular, and hepatic health. 
300MG CAFE ALATUS® NATURAL CAFFEINE
The absolute highest standard in the realm of caffeine sources, Cafe Alatus® is a fully natural source of caffeine derived from green coffee.
L Theanine & Caffeine synergy has been proven in numerous studies where as including L-Theanine along with Caffeine boosted mental performance, focus and response almost double than Caffeine as a standalone. We included the utilized dose, 75mg.
62.5MG DYNAMINE® & TeaCrine®

Dynamine® & TeaCrine® are patent pending and have been proven to deliver an extremely clean, but strong, energy and focus.
1G L TYROSINE
L Tyrosine is shown to support dopamine which supports both focus and mood. It replenishes catecholamine neurotransmitters such as norepinephrine, epinephrine and dopamine and fights fatigue.
2G TAURINE
Taurine occurs naturally in the human body and is responsible for controlling many vital functions such as alertness and neurological development, ion and PH buffering in skeletal muscles, proper utilization of electrolytes, and even improves cell volumization.
6MG BIOPERINE®
Sourced straight from the Prestigious Sabinsa® Corporation, Bioperine® aids in the absorption of all the high quality ingredients we utilize in Pre Rx.


100% LABEL CLAIM GUARANTEE
Every PROCCOR® product is strictly tested before being released to the market. We quarantine raw materials upon arrival, HPLC/USP/3rd PARTY test for accuracy, impurities, and metals. Only after these steps are completed do we make the products available to you. All PROCCOR® products are manufactured in a state-of-the-art cGMP, FDA Registered facility under pharmaceutical grade processing.
HAVE A QUESTION? Call Our Expert Team: 800.803.5204
DIRECTIONS
USE ONLY AS SUGGESTED. Mix 1 Serving (2 Scoops) with 6-8 fl. oz. of cold water and drink 30 minutes pre workout. Pre Rx can be stacked with Amino Prestige for the ultimate energy and recovery stack. DO NOT STACK WITH OTHER STIMULANT OR NITRATE CONTAINING PRODUCTS.
WARNING
THIS PRODUCT IS ONLY INTENDED TO BE CONSUMED BY HEALTHY ADULTS, 18 YEARS OF AGE OR OLDER. Do not use this product if you are pregnant, nursing, or are currently taking nitrates for chest pain or if you are taking medication used to treat erectile dysfunction such as PDE-5 inhibitors. Before using this product, consult a licensed, qualified, healthcare professional, including but not limited to, if: you are taking antidepressants such as MAOI (Monoamine Oxidase Inhibitor) or SSRI, blood thinners, nonsteroidal anti-inflammatory drugs, pseudoephedrine, or you are taking any other dietary supplement, prescription drug or over-the-counter medication; or if, you suspect you have or have been treated for, diagnosed with or have a family history of, any medical condition, including but not limited to: high or low blood pressure, diabetes, glaucoma, anxiety, cardiovascular, psychiatric or seizure disorders, cardiac arrhythmia, stroke, heart, liver, kidney or thyroid disease, or difficulty urinating due to prostate enlargement. This product contains caffeine and should not be used by individuals wishing to eliminate caffeine from their diet or in combination with caffeine or stimulants from other sources including but not limited to, coffee, tea, soda, or other dietary supplements and medications. Discontinue 2 weeks prior to surgery. Immediately discontinue use and contact a medical doctor if you experience any adverse reaction to this product. Do not exceed recommendations for Suggested Use. Use only as directed. Do not use if safety seal is broken or missing. Store in a cool dry place. KEEP OUT OF REACH OF CHILDREN.