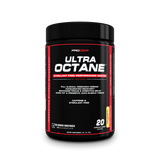 Ultra Octane™ V2 - CLEARANCE
****** SCRATCH 'N DENT SALE, BIG SAVINGS! ******
We've got a very limited supply of scratched/dented bottles in stock, ALL BRAND NEW WITH SEALS IN TACT AND NOT EXPIRED. We are clearing them out at $9.99 (reg. $42.99) per unit - EXTREMELY LIMITED SUPPLY!! 
**SALE IS FINAL, NO RETURNS OR COUPONS ON SCRATCH 'N DENT SALES.**
STIM FREE PREWORKOUT
Full Clinical Dosing 
Featuring 6G Citrulline Malate
Features Creapure® Creatine & AgmaPure Agmatine
Increases Performance, Endurance, Pumps, & Focus
100% Stim Free & 100% Transparent Formula
Delicious Flavors
ENDURANCE, PUMPS & LACTIC ACID BUFFERING
100% LABEL CLAIM GUARANTEE
Every PROCCOR® product is strictly tested before being released to the market. We quarantine raw materials upon arrival, HPLC/USP/3rd PARTY test for accuracy, impurities, and metals. Only after these steps are completed do we make the products available to you. 
All PROCCOR® Products are manufactured in a state-of-the-art cGMP, FDA Registered facility under pharmaceutical grade processing.
HAVE A QUESTION? Call Our Expert Team: 800.803.5204
DIRECTIONS
USE ONLY AS DIRECTED. Take one serving (1 rounded scoop) Ultra Octane, mixed with 6-8 oz of cold water 30 minutes before training, ideally on a semi empty or empty stomach for maximum results. Vary liquid to achieve your preferred taste. During your workout, it is recommended that you drink plenty of water or an intra-workout performance beverage such as Amino Prestige to stay hydrated and recover faster. DO NOT STACK WITH OTHER NITRATE CONTAINING PRODUCTS.
WARNING
THIS PRODUCT IS ONLY INTENDED TO BE CONSUMED BY HEALTHY ADULTS, 18 YEARS OF AGE OR OLDER. Do not use this product if you are pregnant, nursing, or are currently taking nitrates for chest pain or if you are taking medication used to treat erectile dysfunction such as PDE-5 inhibitors. Before using this product, consult a licensed, qualified, healthcare professional, including but not limited to, if: you are taking antidepressants such as MAOI (Monoamine Oxidase Inhibitor) or SSRI, blood thinners, nonsteroidal anti-inflammatory drugs, pseudoephedrine, or you are taking any other dietary supplement, prescription drug or over-the-counter medication; or if, you suspect you have or have been treated for, diagnosed with or have a family history of, any medical condition, including but not limited to: high or low blood pressure, diabetes, glaucoma, anxiety, cardiovascular, psychiatric or seizure disorders, cardiac arrhythmia, stroke, heart, liver, kidney or thyroid disease, or difficulty urinating due to prostate enlargement. Discontinue 2 weeks prior to surgery. Immediately discontinue use and contact a medical doctor if you experience any adverse reaction to this product. Do not exceed recommendations for Suggested Use. Use only as directed. Do not use if safety seal is broken or missing. Store in a cool dry place. KEEP OUT OF REACH OF CHILDREN.