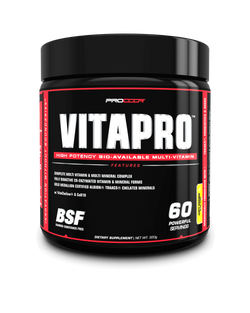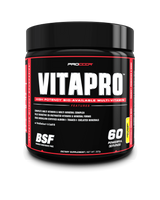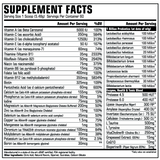 VITAMIN & MINERAL COMPLEX
VITAPRO™
SPORT MULTI VITAMIN & MULTI MINERAL COMPLEX
Bio Available/Co-Enzymated Vitamins & Minerals
Powered Exclusively by Albion® Gold Medallion® Certified TRAACS® Chelated Minerals
1 BILLION Shelf Stable, Dairy Free Probiotics & Enzymes per serving
VitaCholine®, Tyrosine, Taurine, Grapeseed Extract, CoQ10, Bioperine® & more
Fully Transparent Formula with ZERO Artificial Flavors, Fillers, Dyes, Artificial Colors, or Banned Substances
Great Tasting & Easy To Mix Powder

YOUR MULTI SHOULD WORK JUST AS HARD AS YOU DO, PERIOD. 
Put away the 2, 5, or 10 capsules of the standard, cheap Multi you've been using, It's time for something new, innovative, and ahead of its time. Something that works just as hard as you do.
BIOAVAILABLE VITAMINS & TRAACS® MINERALS
VitaPro™ contains bio available as well as co-enzymated vitamin forms for maximum absorption, and World Class Albion® TRAACS® Gold Medallion® Certified Chelated Minerals.
COGNITIVE & HEALTH BLENDS
Featuring VitaCholine®, Tyrosine, Taurine, COQ10, Grapeseed Extract & more.
SHELF STABLE PROBIOTICS & ENZYMES
1 BILLION CFU Shelf Stable, Dairy Free Probiotics & Enzymes for optimal digestion & gut health.
UNPARALLELED QUALITY
All ingredients have been carefully selected based on clinical research and included at their efficacious doses to ensure you get the maximum benefit. Absolutely free of artificial flavors, dyes or fillers.
EXCLUSIVELY POWERED BY
GLD MEDALLION® CERTIFIED CHELATE
VitaPro™ earns the Gold Medallion® logo by delivering every single mineral in our formula from Albion's® World-Class TRAACS® (The Real Amino Acid Chelate System) Chelated Minerals. The absolute gold standard for minerals and absorption on the market, bar none.

THE MOST COMPLETE & BIO-AVAILABLE SPORT MULTI VITAMIN & MULTI MINERAL FORMULA ON THE MARKET
Bio Available As Well As Co-Enzymated Vitamin Forms
No Cheap, Ineffective, Poorly Absorbable Vitamins or Minerals
ONE BILLION Dairy Free, Shelf Stable Probiotics & Enzymes
CoQ10 For Health & Vitality
VitaCholine® (the only research proven Choline), Taurine and Tyrosine for Cognitive Health & Performance
Grapeseed Extract 95% for increased blood flow & nutrient uptake
Great Tasting, Convenient & Easy Mixing Powder
60 Servings Per Bottle
ZERO Fillers, Dyes, Artificial Flavors or Banned Substances
100% LABEL CLAIM GUARANTEE
Every PROCCOR® product is strictly tested before being released to the market. We quarantine raw materials upon arrival, HPLC/USP/3rd PARTY test for accuracy, impurities, and metals. All PROCCOR® Products are manufactured in a state-of-the-art cGMP, NSF, FDA Registered facility under pharmaceutical grade processing.
HAVE A QUESTION? Call Our Expert Team: 800.803.5204
DIRECTIONS
Mix one serving (1 scoop) of VitaPro ™ with 5-8 oz of cold water and drink 1-2 times daily, with or after meals. Vary liquid to achieve your preferred taste. During your workout, it is recommended that you drink plenty of water or an intra-workout performance beverage such as Intralyte ™ or Amino Prestige ™ to stay hydrated and recover faster.
*Note: On an empty stomach, Vitamin B3 (Niacin) found in VitaPro may cause a temporary flush, itching, or tingling red rash on the skin. This reaction is completely normal and harmless and referred to as a "Niacin Flush", which has a multitude of health benefits. To avoid or greatly diminish the "Niacin Flush" effect, make sure to take VitaPro with or after meals and not on an empty stomach.
NOTICE
THIS PRODUCT IS ONLY INTENDED TO BE CONSUMED BY HEALTHY ADULTS, 18 YEARS OF AGE OR OLDER. Discontinue 2 weeks prior to surgery. Immediately discontinue use and contact a medical doctor if you experience any adverse reaction to this product. Do not exceed recommendations for Suggested Use. Use only as directed. Do not use if safety seal is broken or missing. Store in a cool dry place. KEEP OUT OF REACH OF CHILDREN.
Customer Reviews
08/09/2020
Mikaelia R.

United States
Works as described
Product mixes well and feels like it works. It doesn't taste exactly like orange.. It has more of a gingery taste.