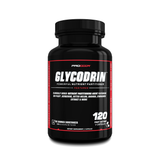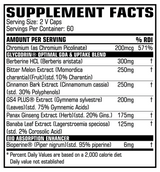 GDA/INSULING MICKER
GLYCODRIN®
Click here to View COA and Lab Results

POTENT NUTRIENT PARTITIONER
Shuttles Carbs & Nutrients Into Muscle Cells
Stores Carbs & Nutrients as Muscle Energy (Glycogen) Instead of Converting to Fat
Controls Blood Sugar
Increases Pumps & Muscle Volume
Vegan Friendly
POWERFUL BODY RECOMP
A truly powerful Nutrient partitioning agent for everyday use - Glycodrin™ reigns in a class of its own.
GS4 PLUS® 75% - FROM THE PRESTIGIOUS SABINSA CORPORATION
Gymnema Leaf is a well known herb for blood glucose control among a host of other benefits, however the leaf/whole herb extract is not efficient at achieving maximal blood glucose properties. Many companies still choose to use the whole herb as it is much much cheaper. We decided to stand apart and offer a unique, superior alternative by utilizing the trademark/patented form of the "75% standardized extract", GS4 PLUS® from the prestigious and renowned Sabinsa Corporation.
BERBERINE HCL
Berberine is primarily used to very effectively control blood sugar, but Berberine has many additional benefits including reducing unhealthy fatty deposits in the liver and protecting against cardiovascular disease.
BITTER MELON (10% CHARANTIN)
Bitter Melon improves insulin levels, control blood sugar and makes weight loss easier by helping prevent excess sugar absorption.
CINNAMON EXTRACT (30% POLYPHENOLS)
Cinnamon extract (standardized) improves insulin resistance. Research on cinnamon extract has shown it to reduce blood sugar by 24% and cholesterol by 18%, a no small feat by any means.
PANAX GINSENG (20% GINSENOSIDES)
Ginseng has been shown to have a host of benefits, however when pertaining to blood sugar control it has been shown to significantly improve fasting blood glucose in people with and without diabetes.
BANABA LEAF EXTRACT (2% COROSOLIC ACID)
Banaba leaf has been used to treat Diabetes and more and more people are claimed to be moving toward Banaba leaf and away from pharmaceuticals due to its promising effects on blood sugar.
100% LABEL CLAIM GUARANTEE
Every PROCCOR® product is strictly tested before being released to the market. We quarantine raw materials upon arrival, HPLC/USP/3rd PARTY test for accuracy, impurities, and metals. Only after these steps are completed do we make the products available to you. All PROCCOR® Products are manufactured in a state-of-the-art cGMP, FDA Registered facility under pharmaceutical grade processing.
HAVE A QUESTION? Call Our Expert Team: 800.803.5204
DIRECTIONS
Take 2 V Caps 30 minutes before a carb heavy meal containing 50-75g of carbohydrates.
NOTICE
THIS PRODUCT IS ONLY INTENDED TO BE CONSUMED BY HEALTHY ADULTS, 18 YEARS OF AGE OR OLDER. Discontinue 2 weeks prior to surgery. Immediately discontinue use and contact a medical doctor if you experience any adverse reaction to this product. Do not exceed recommendations for Suggested Use. Use only as directed. Do not use if safety seal is broken or missing. Store in a cool dry place. KEEP OUT OF REACH OF CHILDREN.