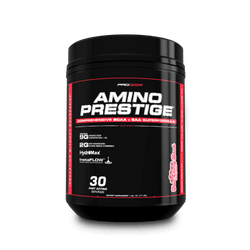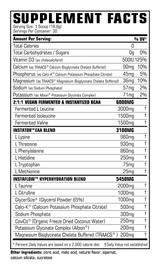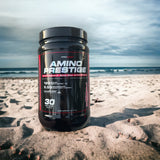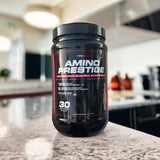 VEGAN iBCAA+iEAA
AMINO PRESTIGE™


  PREMIUM FERMENTED BCAA & EAA
100% Fermented Vegan BCAAs + EAAs
12,000mg BCAA + EAAs per serving

5500mg InstaFLOW™ Hyper Hydration Blend
World-Class Albion® TRAACS® Chelated Minerals
Over 1500mg of Electrolytes + Minerals Per Serving
GlycerSize® Stabilized Glycerol for Hydration & Pumps
CoviCo

®

 Organic Freeze Dried Coconut Water 
ZERO Fillers, Dyes, Artificial Flavors or Banned Substances
Amazon Tasting Natural Flavors

FERMENTATION TECHNOLOGY
Amino Prestige™ features Fermented BCAAs - the highest quality vegan iBCAAs and iEAAs available on the market today, created using a specialized fermentation process. 
Majority of products on the market today utilize non-fermented low quality BCAAs & EAAs that are typically sourced from duck feathers and human hair due to their low cost and availability. Since inception, PROCCOR has only ever utilized and sourced vegan fermented iBCAAs, regardless of cost and difficulty of sourcing, long before they were the cool kid on the block.

2:1:1 PREMIUM FERMENTED & INSTANTIZED BCAAS - LEAN MUSCLE SYNTHESIS

BCAAs have been clinically researched in numerous studies at a 2:1:1 ratio for their ability to increase and preserve lean muscle and even decrease body fat. Amino Prestige™ features a whopping 12G of Fermented iBCAAs & iEAAs.
InstaTOR™ EAAs
EAAs (Essential Amino Acids) are "essential" due to your body's inability to produce them and as a result must be consumed through food or supplementation. EAAs are required to build new muscle and also aid with cell tissue repair. EAAs are extremely difficult to flavor and as a result many of the products on the market today include only minimal amounts. Amino Prestige™ contains a whole 3 Grams of EAAs to ensure you get the most out of every scoop.
HYPER HYDRATION & RECOVERY (InstaFLOW™)
2000MG L-Taurine for hyperhydration & performance.

1000MG L CItrulline for performance.

GlycerSize® is a high yield 65% glycerol source that aids in hyper-hydration and adds a more "volumized" muscle look.

CoviCo® Organic Freeze Dried Coconut Water for rapid re-hydration & naturally occuring electrolytes.
Albion® TRAACS® Buffered Minerals – The difference between standard minerals and Albion® Chelated TRAACS® Minerals is extremely unique. TRAACS® minerals have an ion charge placed around them that allows the minerals to bypass the stomach's acidity and enter the small intestine where maximal absorption occurs. This utilization separates us from the majority of brands using cheap, low bioavailable, generic sources of electrolytes.
100% LABEL CLAIM GUARANTEE
Every PROCCOR® product is strictly tested before being released to the market. We quarantine raw materials upon arrival, HPLC/USP/3rd PARTY test for accuracy, impurities, and metals. Only after these steps are completed do we make the products available to you. All PROCCOR® Products are manufactured in a state-of-the-art cGMP, FDA Registered facility under pharmaceutical grade processing.
HAVE A QUESTION? Call Our Expert Team: 800.803.5204
PROCCOR®, FREEDOM POP®, SOUR CHERRY BOMB® and CITRUST TWIST® are registered trademarks of PROCCOR Pharmaceuticals, Inc.
DIRECTIONS
USE ONLY AS DIRECTED. Mix 1 Serving (1 Scoop) with 10-12 fl. oz. of cold water and drink pre, during or post workout. Amino Prestige™ can be stacked with Pre-Rx™ for the ultimate energy and recovery stack.
WARNING
THIS PRODUCT IS ONLY INTENDED TO BE CONSUMED BY HEALTHY ADULTS, 18 YEARS OF AGE OR OLDER. Discontinue 2 weeks prior to surgery. Immediately discontinue use and contact a medical doctor if you experience any adverse reaction to this product. Do not exceed recommendations for Suggested Use. Use only as directed. Do not use if safety seal is broken or missing. Store in a cool dry place. KEEP OUT OF REACH OF CHILDREN.