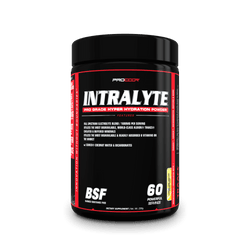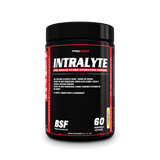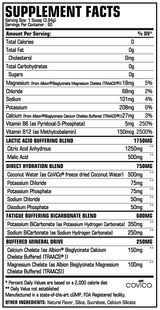 HYPER HYDRATION & ENDURANCE
Now with CoviCo® Freeze Dried Performance Coconut Water & New, Even More Delicious Flavoring!
1600mg Electrolytes Per Serving (4x the amount of popular sugar loaded "hydration" drinks!)
Powered by World-Class Patented, Gold Medallion Certified Albion® TRAACS® Chelated Minerals
Lactic Acid Buffers, BiCarbonates, Multi-Source Electrolytes
ZERO Sugar, Calories, Dyes, Fillers, Artificial Flavors, or Banned Substances
Same Tried and True Formula 6+ Years
Delicious & Refreshing Taste
60 Servings Per Container
1600MG ELECTROLYTES & ZERO SUGAR
A whopping full spectrum of 1600MG blend of electrolytes to boost endurance & natural energy production.
LACTIC ACID BUFFERING
BiCarbonates & Citric Acid as well as Albion® TRAACS® Minerals aid in buffering lactic acid & keeping your body in a low alkaline state to boost recovery & endurance.

UNPARALLELED QUALITY
All ingredients have been carefully selected based on clinical research and included at their effecticious doses to ensure you get the maximum benefit. Absolutely free of artificial flavors, dyes or fillers.
Albion® TRAACS® Minerals
Albion's Chelated Minerals are the most studied and most bio-available minerals on the market. Chelation results in maximum absorption by allowing the mineral(s) to bypass the acidity of the stomach and enter the small intestine where maximum absorption can take place.
Buffer Lactic Acid with BiCarbonates
BiCarbonates have been effectively shown to buffer lactic acid, in turn increasing performance and endurance. Here's how…
During strenuous activity (such as working out, endurance sports, etc) the body's H+ (hydrogen ion) levels rise, resulting in a drop in performance levels, as the body's environment turns more acidic. This is where BiCarbonates come into play. BiCarbonates effectively buffer lactic acid and shift the body's environment to be more alkaline (less acidic). The result? You can now work out harder and longer.
Electrolytes
It's widely known that electrolyte replenishment is essential to any sport to ensure maximal performance ability, fluid replenishment, and cramp prevention. Well… then what's the problem with most electrolyte drinks and/or powders? First, most don't contain enough electrolytes per serving to allow for maximal performance and fluid replenishment. Second, they are usually filled with artificial colors, flavors, fillers and so on. Intralyte™ contains absolutely no fillers, artificial colors or flavors and is loaded with 1100mg of Electrolytes and Minerals PER SCOOP (60 Scoops/bottle) to ensure that you get the hydration your body needs to perform at its peak– every time.
Citric Acid
Citric Acid has been shown to have a host of benefits, but one in particular is the reason why we chose to have it in Intralyte™ – its ability to improve athletic performance and decrease chronic fatigue. Citric acid is an important part of the Krebs cycle and aids in the reduction of lactic acid in the body (again, resulting in a shift of the body's environment from an acidic to a more alkaline one), which results in greater performance and endurance.
The right vitamins, in the right forms, at the right time
Pre-loading with B-Vitamins is well known among endurance athletes to increase performance and stamina. However, B-Vitamins are essentially useless unless supplemented with in their bio-available forms Methylcobalamin (B-12) and P5P (B6) as they will just flush through your body without being fully absorbed. All vitamins in Intralyte™ are in their readily activated forms.


100% LABEL CLAIM GUARANTEE
Every PROCCOR® product is strictly tested before being released to the market. We quarantine raw materials upon arrival, HPLC/USP/3rd PARTY test for accuracy, impurities, and metals. Only after these steps are completed do we make the products available to you. All PROCCOR® Products are manufactured in a state-of-the-art cGMP, FDA Registered facility under pharmaceutical grade processing.
HAVE A QUESTION? Call Our Expert Team: 800.803.5204
DIRECTIONS
USE ONLY AS DIRECTED. Take one to two servings (1-2 scoops) Intralyte, mixed with 8-16 fl. oz. of cold water during, before or after training. During your workout, it is recommended that you drink plenty of water or use an intra-workout performance beverage such as Intralyte to stay hydrated. 
WARNING
THIS PRODUCT IS ONLY INTENDED TO BE CONSUMED BY HEALTHY ADULTS, 18 YEARS OF AGE OR OLDER. Discontinue 2 weeks prior to surgery. Immediately discontinue use and contact a medical doctor if you experience any adverse reaction to this product. Do not exceed recommendations for Suggested Use. Use only as directed. Do not use if safety seal is broken or missing. Store in a cool dry place. KEEP OUT OF REACH OF CHILDREN.