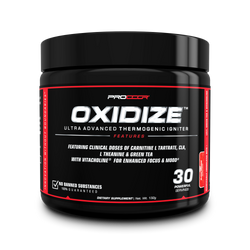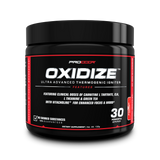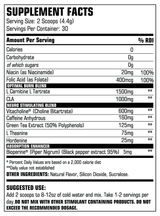 THERMOGENIC IGNITER


CLINICAL DOSING
Every ingredient has been clinically dosed for maximum results.
RAPID THERMOGENESIS
1.5G L CARNITINE TARTRATE & 1G CLA
SHARP FOCUS & ENERGY
600mg of the only clinically studied and research proven choline on the market, VitaCholine®, plus Green Tea, L Theanine, Hordenine & Bioperine®.
UNPARALLELED QUALITY
All ingredients have been carefully selected based on clinical research and included at their effecticious doses to ensure you get the maximum benefit. Absolutely free of artificial flavors, dyes or fillers.
L Carnitine L Tartrate + PURE CLA
A strong combination of long researched & proven L Carnitine L Tartrate and Pure CLA. Both clinically dosed and delivering maximum thermogenic potential.
Vitacholine®
The only researched & proven Choline Bitartrate on the market from the prestigious Balchem. Enhanced memory, mood, and cognitive functions are just some of the benefits.
Green Tea Extract
Green Tea has been throughly researched and prove effective in many areas, including fat loss, anti oxidative capabilities, and overall well being. You can see why we chose to include it in Oxidize.
Caffeine + L-Theanine
Caffeine and Theanine have both been shown to be effective individually. However, when combined, their synergy proves more effective than either one in isolation. A study on 27 healthy individuals showed that when compared to 50mg of caffeine alone, the addition of 100mg of L-Theanine helped increase cognitive performance and decrease fatigue.
Bioperine®
It would be pointless to have all the ingredients we utilize in Oxidize™ if they are not fully absorbed. This is why we've included 6mg of BioPerine® (95%), the clinical dose, sourced from the Prestigious Sabinsa Corporation to ensure all ingredients have maximum absorption potential.


100% LABEL CLAIM GUARANTEE
Every PROCCOR® product is strictly tested before being released to the market. We quarantine raw materials upon arrival, HPLC/USP/3rd PARTY test for accuracy, impurities, and metals. All PROCCOR® Products are manufactured in a state-of-the-art cGMP, FDA Registered facility under pharmaceutical grade processing.
HAVE A QUESTION? Call Our Expert Team: 800.803.5204
DIRECTIONS
DO NOT EXCEED RECOMMENDED DAILY INTAKE. USE ONLY AS DIRECTED. Take one serving (2 scoops) Oxidize, mixed with 10-12 fl. oz. of cold water 20-30 minutes ideally upon waking up prior to eating anything. Once tolerance has been assessed and you are looking for an additional fat burning boost or a boost of energy, take one additional serving (1 scoop) in the afternoon. DO NOT EXCEED 2 SERVINGS PER DAY. Note: During your workout, it is recommended that you drink plenty of water or a intra-workout performance beverage such as Proccor Intralyte to stay hydrated. 
WARNING
THIS PRODUCT IS ONLY INTENDED TO BE CONSUMED BY HEALTHY ADULTS, 18 YEARS OF AGE OR OLDER. Do not use this product if you are pregnant, nursing, or are currently taking nitrates for chest pain or if you are taking medication used to treat erectile dysfunction such as PDE-5 inhibitors. Before using this product, consult a licensed, qualified, healthcare professional, including but not limited to, if: you are taking antidepressants such as MAOI (Monoamine Oxidase Inhibitor) or SSRI, blood thinners, nonsteroidal anti-inflammatory drugs, pseudoephedrine, or you are taking any other dietary supplement, prescription drug or over-the-counter medication; or if, you suspect you have or have been treated for, diagnosed with or have a family history of, any medical condition, including but not limited to: high or low blood pressure, diabetes, glaucoma, anxiety, cardiovascular, psychiatric or seizure disorders, cardiac arrhythmia, stroke, heart, liver, kidney or thyroid disease, or difficulty urinating due to prostate enlargement. This product contains caffeine and should not be used by individuals wishing to eliminate caffeine from their diet or in combination with caffeine or stimulants from other sources including but not limited to, coffee, tea, soda, or other dietary supplements and medications. Discontinue 2 weeks prior to surgery. Immediately discontinue use and contact a medical doctor if you experience any adverse reaction to this product. Do not exceed recommendations for Suggested Use. Use only as directed. Do not use if safety seal is broken or missing. Store in a cool dry place. KEEP OUT OF REACH OF CHILDREN.